Cake Color (solid watercolor)
Holbein's Cake Color (solid watercolor) Transparent color…A total of 26 colors
Opaque color…A total of 24 colors
What is Cake Color?
It is a small solid color that is made by absorbing water from watercolor. It is convenient for the use outside because it dissolves when you touch it with a brush soaked with water. It has 2 sorts of color: transparent color and opaque color.
Characteristics
Well dissolved in water
Both of transparent color and opaque color are dissolved in water well, and they enable you to sketch quickly.

Vivid coloring
The beauty of pigment selected carefully appears on picture as it is.

Excellent light resistance
Excellent pigment with little fading property is used in a large quantity.

Held in a metal box that is useful for carrying
It is held in a portable metal box with a lid that is useful as palette.

Possible to refill color piece by piece
You can refill the color used up piece by piece after purchasing a set of transparent color or opaque color.

White is in tube so that you can mix it easily with the other colors.


Sets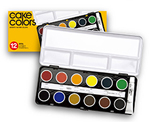 Transparent color
12
 
colors set
24
 
colors set
 
Opaque color.
12
 
colors set
24
 
colors set