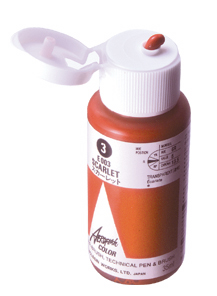 >>35ml
only white and black100ml


Aeroflash
Holbein's Aeroflash...A total of 50 colors
What is Aeroflash?
It is the liquid acrylic resin color comprising superfine grain pigments that can be sprayed directly with an airbrush.
Characteristics
Adjusted viscosity suitable for an airbrush
To mix in the cup is unnecessary to the end, because color itself does not precipitate. It can be sprayed smoothly without choking.
Vivid coloring
Coloring is vivid even with one push, for the concentration of color is high enough.

Becoming water-resistant when it dries in spite of its water-soluble property
Aeroflash is the acrylic resin color same as Acryla. It is no longer dissolved in water once dried, although it can be diluted with water.

Able to use for illustration or cartoon with a brush and a pen.
Sets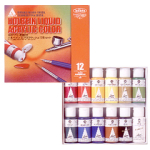 Holbein's Aeroflash set ... 12 colors set
Medium& Spray
| | | | |
| --- | --- | --- | --- |
| Colorless |   |   | (liquid to dilute) ... 35ml, 100ml (bottle) |
| Cleaner |   |   | (washing liquid) ... 100ml (bottle) |
| Gloss Finish |   |   | (polishing spray) ... 100ml (bottle) |
| Mat Finish |   |   | (mat spray) ... 100ml (bottle) |